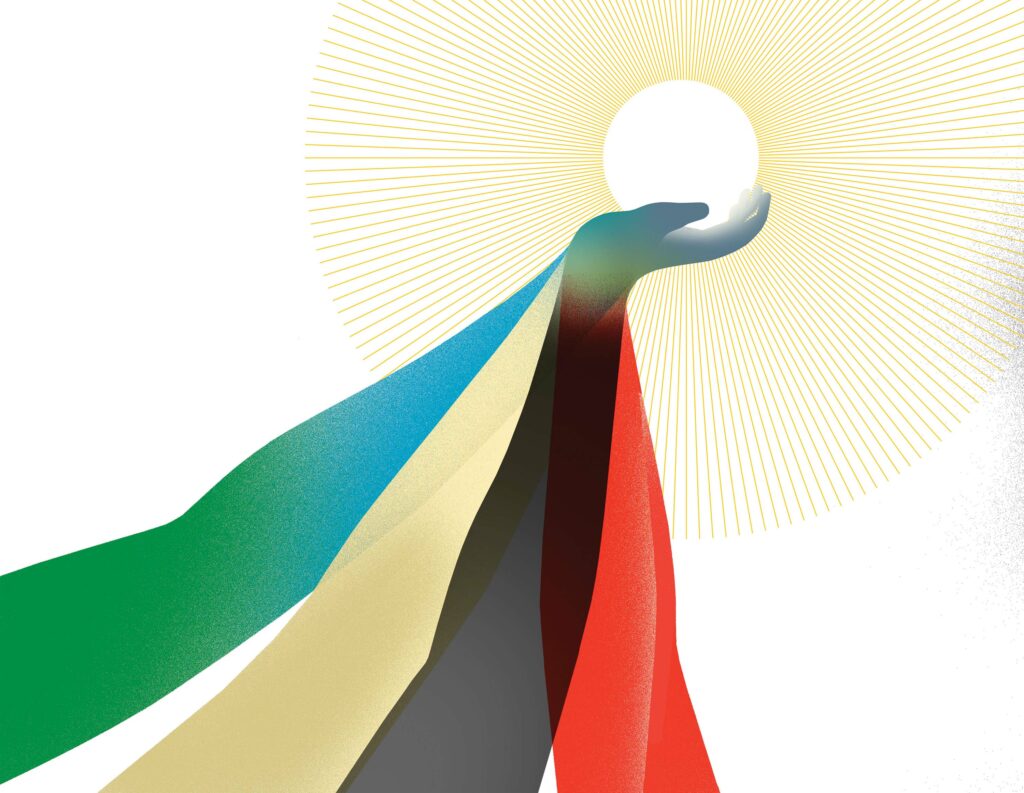 For the California Masonic Foundation, partnerships are the key to expanding reach.
By Ian A. Stewart
Download the 2022 Fraternity Report as a PDF here, or view all stories individual stories through the links below.
How can one plus one make three?
For the Masons of California, there's an inherent logic to that unlikely equation. It's apparent every time a new member volunteers their time, energy, and ideas to a worthy cause. Or when they share a new perspective with the group. Or offer to make an introduction. It's what happens when two parties bring their energy, resources, and talents together to create something that's even greater than the sum of their parts. It's a special kind of synergy—and one that can allow even a small organization to make an outsize effect on the world around it.
And when it comes to Masonic relief, it's something like a guiding principle.
For generations, the Masons of California have proven themselves to be committed to fulfilling their fraternal obligation to provide aid to those in need and improve the communities around them. The past year was no different. Members pledged more than $11 million in total gifts to California Masonic Foundation programs. Over the summer, as the conflict in Ukraine became front-page news, California Masons teamed up with their neighbors in the Most Worshipful Prince Hall Grand Lodge of California and the George Washington Union Grand Lodge Supreme Council to raise more than $76,000 for the International Committee of the Red Cross to support relief efforts in Ukraine. On top of that, they also helped organize countless scholarships, fundraisers, and volunteer efforts at the lodge and district level. From food and clothes drives to school-supplies giveaways, beach cleanups, and more, both locally and statewide, Masons have and continue to make a point of showing up and lending a hand. 
And yet as anyone who's ever been in a lodge full of Masons knows, when it comes to making the greatest possible impact, it isn't just about dollars and cents. Instead, the secret ingredient is a dash of teamwork. Because when Masons bring different people together—with all the ideas, connections, and resources they bring to the table— they're able to truly multiply their reach and extend their influence. "We can make such a bigger impact by having great partners," says Mark McNee, the vice chair of the California Masonic Foundation and a member of several Bay Area lodges including Seven Hills No. 881.

Masonic Relief: Not Going It Alone
Mike George has seen firsthand how that can play out. A longtime teacher and school administrator in San Diego, George is now co-chair of the San Diego–area Masonic Public Education Advisory Committee. Both professionally and through the Masons, he's seen just how impactful—and necessary—it is to bring groups together to solve big challenges. 
On the PEACs, that's the name of the game. Members of the committee act as tentacles reaching into the local community, connecting schools, administrators, and nonprofits with the Foundation's statewide initiatives. This year, the PEAC partnered on its scholarship program with Reality Changers of San Diego, a group George was familiar with from his work in the local schools. 
The connections that George and his team make have also, for instance, helped smooth the way to introduce the national literacy nonprofit Raising A Reader with the county school district—the second-largest district in the state. Since 2012, that's led to Raising A Reader's bringing its family-reading book-share program to 67 classrooms in the county. Says Michelle Torgerson, the group's CEO, "Raising A Reader would not be the organization we are without the Masons, and we wouldn't be able to serve tens of thousands of students and families without the California Masonic Foundation. This partnership has allowed us to reach families who need these early literacy supports the most." 
Or as George puts it, "Bringing our philosophy, our money, and our belief in early education together with the needs of the school district through a research-proven program like Raising A Reader shows how all these things are intertwined," he says. "To make a difference, you can't just do it through one group, unless you're a mega-group."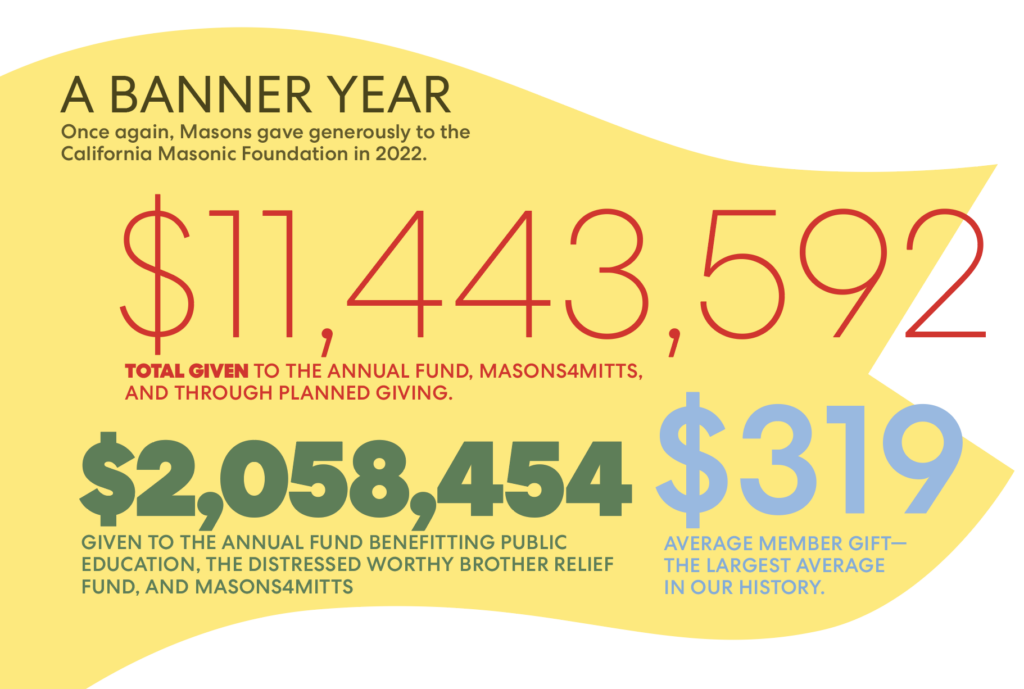 Statewide, Masons' support has helped Raising A Reader expand into more than 800 classrooms. Since 2011, Masons have given more than $3.5 million to the program, which aims to reach the 1,000 classroom mark in the near future. 
During the summer of 2020, the Foundation was able to put that partnership to even greater good. With public schools closed for in-person instruction, Foundation staff connected Raising A Reader's literacy and education expertise with their Major League Baseball partner organizations through Masons4Mitts. The result was a novel program in which Masons helped organize and deliver more than 7,000 book bags through the teams' youth-baseball programs— an important resource-sharing milestone for both the Foundation and Raising A Reader. 
In San Diego, that spirit animates the Foundation's recent approach to philanthropy. Working with its partners in the local school district, as well as Raising A Reader, Major League Baseball, and locally based college-success nonprofits, the Foundation and its PEACs are embracing a new role as connectors. "We've always had partners, but now we're shifting to be more like a seed organization bringing people together—like venture philanthropists," McNee says. Over the coming year, the Foundation plans to put a special emphasis on the region though place-based philanthropic efforts, using the power of its network to amplify the impact of its work.
Above:
Joe Stout, chair of the Orange County Public Education Advisory Committee, speaks during a Public Schools Months Event at Davis Elementary School in Santa Ana.
A Rallying Cry for Masonic Relief
In 2022, the Masons of California showed just how much faith they have in that philosophy. All told, the fraternity gave more than $11 million to the Foundation, driven in large part by planned gifts and bequests. In addition to reaching an all-time high in average annual gifts, the past year also saw an increase in overall member giving, lodge officer giving, and recurring online gifts. Grand Master's Circle-level and Anniversary-level donors were both up in 2022. More than $2 million of that went to the Foundation's Annual Fund, which supports its scholarships and educational initiatives, as well as the Distressed Worthy Brother Relief Fund, which connects Masons and families in need with services and resources through the Masonic Homes. It was the third consecutive year that Annual Fund giving has topped $2 million.
"Masons believe in the power of working together to solve big issues," says Doug Ismail, president of the California Masonic Foundation. "We see our job as bringing great people and organizations together to further our mission of supporting young people in making college a reality and ending cycles of poverty."
Endorsement of the Foundation's partnerships was perhaps nowhere more in evidence than in the record support for Masons4Mitts. Through that program, the California Masonic Foundation works with the charitable arms of four Major League Baseball teams to supply under-resourced children with leather baseball mitts and connect them to youth sports programs run through those clubs. Through these programs, Masons4Mitts and its partners provide children with a safe place to play while they develop key collaboration skills, learn about health and nutrition, build productive study habits, and more.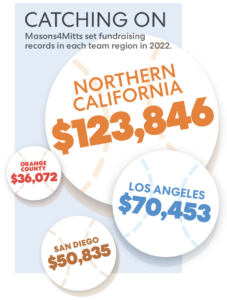 In 2022, California Masons set fundraising records in each of the four Masons4Mitts regions, giving more than $280,000 statewide to Junior Giants, the Los Angeles Dodgers' Dreamteam program, the San Diego Padres' Junior Padres program, and the Los Angeles Angels' RBI youth baseball league. This year also saw all-time gifts from the Foundation to the San Francisco Giants Community Fund surpass the $1 million mark—making it the first Masons4Mitts club to hit that figure. That milestone was celebrated with a special pregame ceremony at Oracle Park in September. Since launching the program in 2011, California Masons have raised more than $1.8 million for young people through Masons4Mitts. That translates to 90,000 mitts for kids in need—although in each case, that support is about more than just baseball or sports equipment. Says Sue Petersen, executive director of the Giants Community Fund, "This milestone isn't just about looking back at a successful fundraising campaign. It's about the future. This gift represents all the years ahead for the more than 50,000 kids who get to participate in sports while gaining confidence and learning how to live healthier lives."
Reflecting on nearly a decade and a half of cooperation between the Foundation and Junior Giants, Ismail marveled at the impact on so many young people that the program had made. All of it, he said, started with a simple conversation between himself, John Bermudez, and Rich Modolo, the first Masons4Mitts team captains. From that single spark, a million-dollar idea was born. 
Incredible as it may seem, the math made sense.
Faces of the Fraternity: Steven L. Yeffa
Past Master, Pleasanton No. 321, Grand Master Circle Donor
What inspired you to give to the California Masonic Foundation?
As California Freemasons, we can see the direct benefit the Foundation provides to our members, their families, and our community. The work of the Foundation is exemplary of the obligations we take as Masons and should, I hope, inspire us all to offer what we can to further our mission. Inspiration, for each of us, comes from a very personal place. For me, as I look at the impact our Masonic Homes and the Raising A Reader program have on the lives of others, it inspires me to contribute to their successes.
How does Masonic relief or charity fit into your life outside of Freemasonry?
My wife, Stacy, and I are pleased to contribute to a number of causes, both within and outside of the Masonic family, including the youth orders. But we carry the principles of Masonic relief into all aspects of our lives. We are proud to continue to be a source of relief to those in need. In fact, just this past year, my company [Flight Adventure Park] started a 501(c)3 to offer scholarships to our team members and to provide relief for those team members that are food- or home-disadvantaged. These are all principles taught to us by Masonry.
What role do you think Masonic relief can play in promoting positive awareness of Freemasonry?
As Freemasons, we remember the core principles of brotherly love, relief, and truth. These are not exclusive to how we interact with one another in our lodges, but rather how we conduct ourselves in our daily lives. I carry these concepts with me in all aspects of my life, work, in church, and in my interactions with others. Kindness in our communities, honesty in business, courtesy in society, and fairness in all things are not the exclusive purview of Freemasons, but if we, as Masons, stand for those principles, then others will also see what we stand for as a society of friends and brothers.
Read More From the 2022 Fraternity Report
Above:
Sue Petersen, head of the Giants Community Fund, presents a custom jersey to Foundation President Douglas Ismail, Grand Master Jeff Wilkins, Prince Hall Grand Master David San Juan, and Giants legend Dave Dravecky.