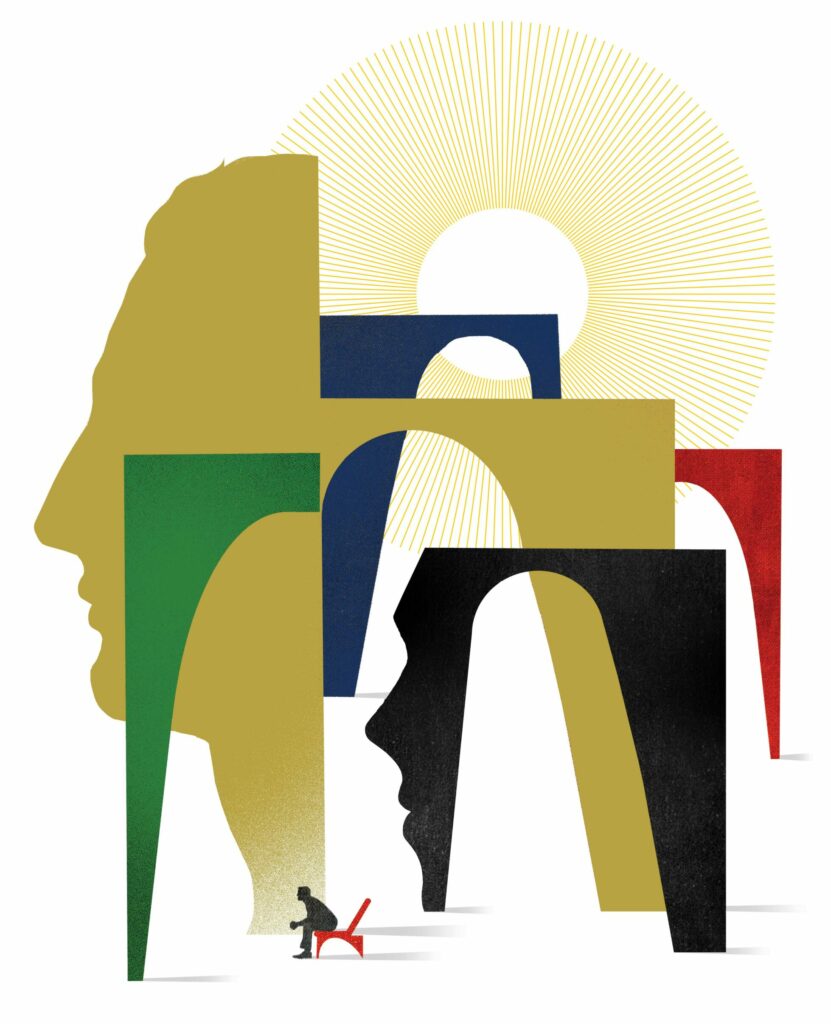 At the Masonic Homes of California, a years-long renovation is nearly complete—and reshaping the entire organization.
By Drea Muldavin
Download the 2022 Fraternity Report as a PDF here, or view all stories individual stories through the links below.
If there's one space that captures the difference even a few years makes at the Masonic Homes of California, it's the old crafts room. For years, the sewing and crafts room on the second floor of the Adams Building languished as a dark, under-utilized, and frankly not-particularly-welcoming space that most of the senior residents of the Masonic Homes' Union City campus tended to avoid. Located at the northern end of the circa-1960s building, it was largely inaccessible to many of the residents of the building's other floors, many of whom use walkers or wheelchairs to get around. "It was choppy and blocked off, and just really dated," recalls Kimberly Hegg, senior director for recreation, events, and volunteer services at the Masonic Homes' Union City campus.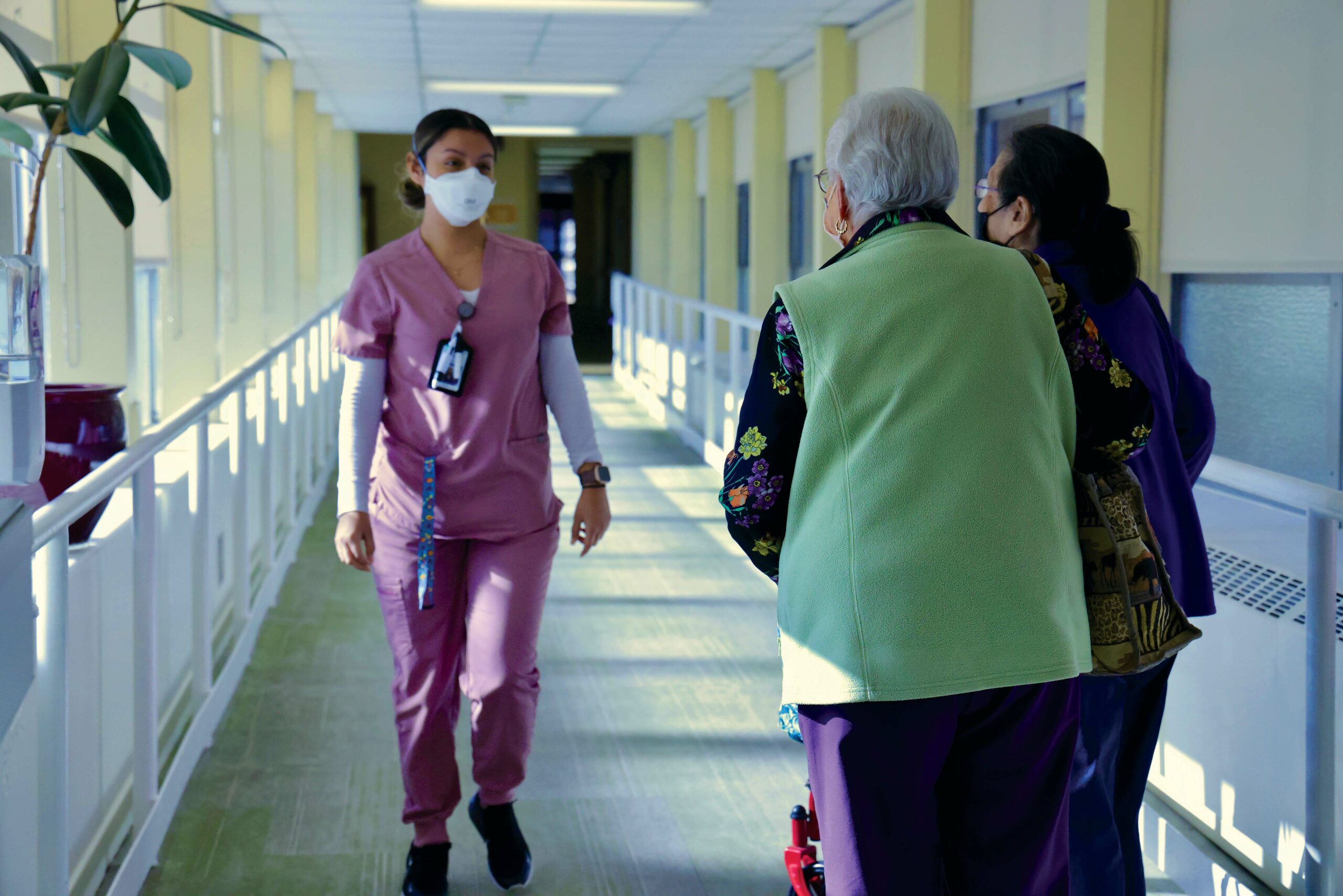 That was then. In 2022, the crafts room—along with the rest of the Adams Building—was reborn, part of a more-than-$115 million, five-year campus renovation plan that is reshaping the Masonic Homes into a modern healthcare organization. The Adams Building reopened in March 2022 as a light-filled, amenities-rich home for 48 seniors requiring assisted-living care. Each floor of the building is now color-coded, with distinctive patterns displayed on signage outside elevators to better orient residents and visitors. 
Each floor includes resident rooms on either side of a central lounge, dining area, and nurses' station. On the second floor, there's a new communal space known as Charlie's Lounge (an ode to Charlie Chaplin, who shot five films in the nearby town of Niles). The lounge features bar-style seating, club chairs, and a double-sided fireplace. Nearby, the old crafts area has been reborn as billiards room; there's also a library and reading area, a sunroom leading out to the new patio and outdoor vegetable garden, and a ceramics studio. An old meeting room adjacent to the lounge has been reconfigured into a movie room, games area, and conference center.
Throughout, the flooring is even (no raised thresholds under doorsills) and entryways are generously wide, making it easy to navigate a walker, wheelchair, or electric powerchair through the space. "It's super mobility-friendly," Hegg says. "We have people down there all the time now. It's so much more inviting."
The Adams Building is just one element in what has been a wide-ranging effort to modernize the campus and, by extension, the overall organization. 
Thanks to the recently completed renovations, the Masonic Homes in Union City has raised its capacity by 52 people, most of the rooms for which are dual-licensed for either independent or assisted-living residents. And the campus now has far more space for those requiring memory care services. In the Wollenburg Building, which was constructed in 1960 as the campus's first hospital ward, recently completed renovations have seen former double-occupancy apartments converted into private studios with their own bathrooms. The fifth floor now serves exclusively as a secure memory care neighborhood, while the third and fourth floor can flex between assisted living and memory care as needed. The difference is stark: Where the campus had just eight dedicated memory care beds pre-renovation, it now boasts between 30 and 46, depending on demand and configuration.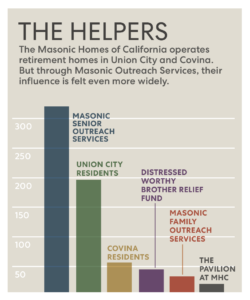 Meanwhile, at the Masonic Homes' Covina campus, work is nearing completion on the new skilled-nursing facility that will include 32 total apartments, split evenly between memory care and long- and short-term rehabilitative care. Says Sabrina Montes, the chief strategic officer for the Masonic Homes, "It's like the curtains are raised. We're opening up and moving forward in an exciting way. It feels like we're moving into a new era." 
Systemwide, the Masonic Homes of California have increased capacity by 58 percent compared to pre-pandemic. The share of apartments given to memory-care residents and those requiring assisted-living services or skilled nursing has also increased relative to the number of independent-living units—a reflection of the changing nature of residents' needs. "It's a rebalancing," Montes says. "We've increased assisted living and memory care because that's where the need and demand has been, and we want to meet the needs of our membership." 
As a result, the average wait time for a new resident to move in to one of the two retirement homes has dropped from almost two-and-a-half years to, for most services, nothing. "For years, we hated having to tell Masons and their wives that they couldn't move in because of the waitlist," says Joseph Pritchard, the chief operating officer of the Masonic Homes. "Now, finally, we're able to bring them in right away. It's totally changed our ability to deliver care."

But as the design touches inside the new Adams Building show, the facelift isn't simply a matter of added capacity. The Union City campus renovation plan, which was set in motion five years ago and spearheaded by president and CEO Gary Charland, also included repaving the roads leading up from Mission Boulevard, grading and renovating a large patio area known as the Sedam Plaza, adding a mosaic walkway up to the Siminoff Temple, and introducing new drought-tolerant landscaping throughout the campus.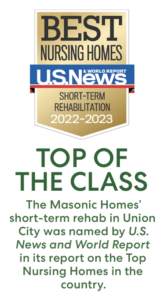 There's also a new veterans memorial fountain outside of the Adams Building featuring the names of every past Masonic Homes resident who served in the armed forces; a newly configured flagpole seating area outside the Head Building; and new railings, sidewalks, and scenic vista cutouts along the main road overlooking Union City and the distant San Francisco Bay. The work was funded through the Let's Write the Future campaign, which raised more than $7.5 million from the California Masonic Foundation. "In my 29 years here, I have never seen so many changes," says Soledad Martinez, the executive director of the Masonic Homes in Union City. "It's such a serene space now, which is so important for the overall health of our residents."
For all that work, however, the most comprehensive upgrade of all has been the opening in late 2021 of the Pavilion at the Masonic Homes—a brand-new, two-story facility offering memory care and assisted- living services to California Masons, residents of the Acacia Creek Retirement Community, and, for the first time, the general public. (The short-term rehab portion of the Lorber Building, known as Transitions, is also open to the public, who pay market rate.) By having memory care and highly skilled nursing services available just steps from the main campus and Acacia Creek, residents of both communities are now able to age safely on campus, whatever their health needs. 
Taken together, these changes point toward the latest evolution of the Masonic Homes, which will celebrate its 125th anniversary this fall. Far from being a widows' and orphans' home, as it was first conceived in 1898, the Masonic Homes of California today has distinguished itself as a trusted expert in senior care, memory care, and compassionate assisted-living services for the elderly.
Outside of its retirement homes, the organization is also evolving into a more holistic deliverer of care. In 2022, Masonic Outreach Services fielded more than 3,000 calls for help through its Masonic Assistance Line. Through Masonic Family Outreach Services and Masonic Senior Outreach Services, the organization connected 364 California Masons and their family members through-out the state with counselors who are able to help direct them to referrals, advice, care management, and, in many cases, temporary emergency funds.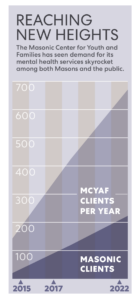 Meanwhile, the Masonic Center for Youth and Families has continued to see an explosion in calls for its services. Now working primarily online, MCYAF (which includes offices in San Francisco and Covina) provided educational, behavioral, therapy, and family counseling to nearly 700 clients around the state in fiscal year 2022—including 223 Masons and their families. That's nearly double the size of the program's clientele five years ago.
MCYAF has also entered agreements with a wide range of outside partners recently, including the Pomona Unified School District, the city of Covina's Police Department Youth Accountability Board, and several San Francisco-area high schools.
On top of that, beginning in 2020, MCYAF has made its team of counselors available to the staff and residents of the Masonic Homes, who now have access to world-class mental health services.
Several other, behind-the-scenes changes also point toward a bright future for MCYAF, including the 2020 approval to provide Medicare services (which has allowed the organization to serve seniors living at the Masonic Homes) and its 2022 contract with Kaiser Permanente to provide in-network services. That move opens MCYAF up to more than 9 million people in California.
With the Masonic Homes' "quasquicentennial" now in sight, it's remarkable to look back at just how much the organization has changed, Montes says. And with the Covina skilled-nursing building set to open soon, that evolution will continue.
As for what comes next, she says extend-ing the organization's reach beyond its walls is key. So too is making sure that current members understand the range of services available to them and their families. "We want to be our members' first choice for retirement support and services," she says. "We want them to see our communities as the place they want to go to.
"In order to evolve, we need to meet our members' changing needs," she continues. "To be there for them, wherever they are, in a way that remains relevant and meaningful." In that sense, it's clear that even at the Masonic Homes, some things never change.
Above:
Newly paved roads with easily accessible walkways and cutouts circle the Masonic Homes' Union City Campus.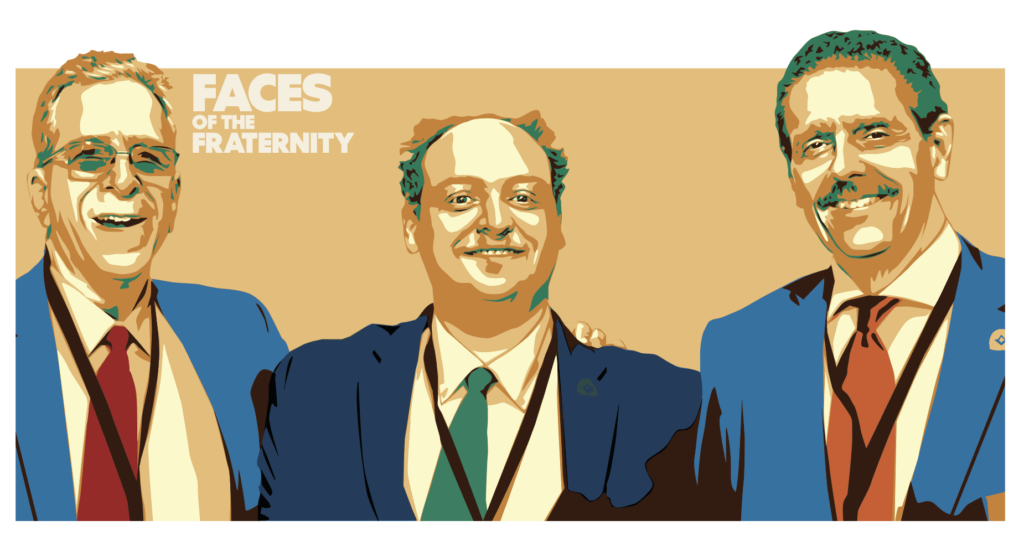 Faces of the Fraternity: Jacob Gershbock (Above, Center)
Grand Master Circle Donor, Master of Iconic Composite No. 520
Your lodge, Ionic Composite, made a generous gift to the Masonic Homes this year. What went into that decision for your group?
Our lodge has always had a strong philanthropic nature. When Worshipful Jeff Bear, who's now on the Masonic Homes' board (above right), was master, he'd pass around a plastic bear-shaped piggy bank at all of our events and people would give money. And I believe we're the only lodge that's had 100 percent officer giving every year since they've tracked it.
So when the Let's Write the Future campaign started, as a lodge, we decided to give $25,000, which we finished paying last year.
But as the work on the Covina campus has progressed, we started talking about opportuni-ties to make a larger gift, and decided, OK, let's go ahead and up our gift from $25,000 to $100,000 over three years.
So it's really a part of your lodge's culture of charitable giving.
We take our charitable obligations to each other very seriously here. We understand the promises we made to one another are more important than a simple dollar-figure can reflect. No amount of money can adequately account for what we mean to one another. So when we have the ability to give back, we give.
You're 35 years old. Lots of people don't start thinking about charitable giving until they're near retirement. What was it like for you to step into this lodge culture of giving while you were still in your twenties?
It was natural for me. My whole family's always been active with the Jewish Federation of Greater Los Angeles. I remember as a kid, we'd have these humongous events with volunteers gathering to call basically everyone in L.A. and solicit donations. So I was 7 or 8, and making $5 a week in allowance, and I gave $20—a month's allowance. It was a natural extension of tzedakah, the Hebrew word for acts of righteousness, or charity. There's always people worse off than you, and so it's our job as people, as humans, to help them.
Read More From the 2022 Fraternity Report