Homage to Service
IT WASN'T THE PUBLIC SCHOOLS MONTH CENTENNIAL CELEBRATION ANYONE ENVISIONED, BUT MASONS' SUPPORT OF EDUCATION WAS AS IMPACTFUL AS EVER IN 2020.
By Ian A Stewart
For 100 years, the Masons of California have supported public education initiatives throughout the state. It's safe to say they'd never done it like this before.
In an unmitigated annus horribilis, public school students were hit especially hard. As students adapted to a new learning environment, Masons stepped up to support schools in new ways, helping to address widening educational gaps brought on by remote instruction. What was planned as a year of centennial celebrations of Masonic Public Schools Month instead turned into a very different, yet still deeply meaningful, homage to that proud legacy.
California Masons contributed more than $630,000 to educational initiatives in 2020, part of a record year that saw more than $2 million in overall giving to California Masonic Foundation programs. "We were astounded," says Doug Ismail, president of the Foundation. In all, more than 13 percent of members gave to the Foundation, the highest level of participation since 2004.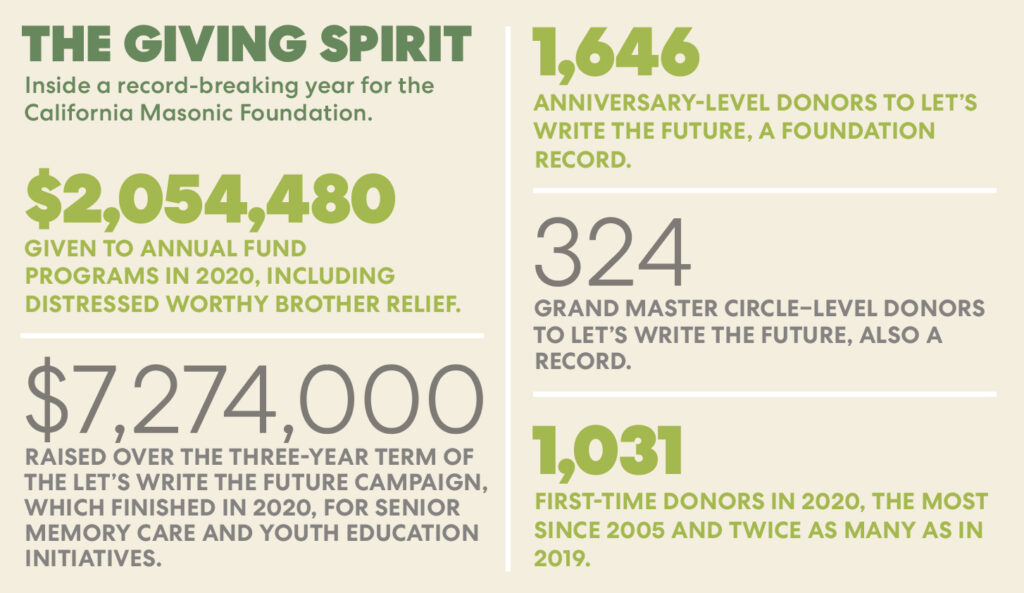 That support was needed more than ever. Over the summer, as students faced a return to entirely digital instruction, Foundation staff and members teamed with their partners at the childhood literacy nonprofit Raising A Reader and with four Major League Baseball team foundations to pack and deliver thousands of Super Summer Book Bags filled with age-appropriate books, art supplies, and other educational materials to the families of underserved students across the state. The bags, cobranded with the Masons of California, Raising A Reader, and the teams' logos, were conceived as an attempt to address the COVID slide—knowledge loss among students that education experts worry is worsened by remote learning.
The Foundation's other major educational initiative continued apace: Rather than hit pause, the Investment in Success scholarship program awarded a record 225 grants totaling $550,000 to graduating high school seniors, Masonic youth order members, and other deserving students. And in September, following an April postponement, Masons saluted 100 years of Public Schools Month in four virtual celebrations with local schools. Each included Masons, students, families, and addresses from then–Grand Master John Trauner and district superintendents, as well as a check presentation for $5,000 to each district.
While not quite the blowout Masons had in mind, the events were a reminder of the real-world impact the fraternity can have on young students. "It meant a lot for our membership to hear how much their support means," Ismail says. "It just goes to show that when pressed to express their ethos of relief, Masons can rise to the demand."
Read More From the Annual Report