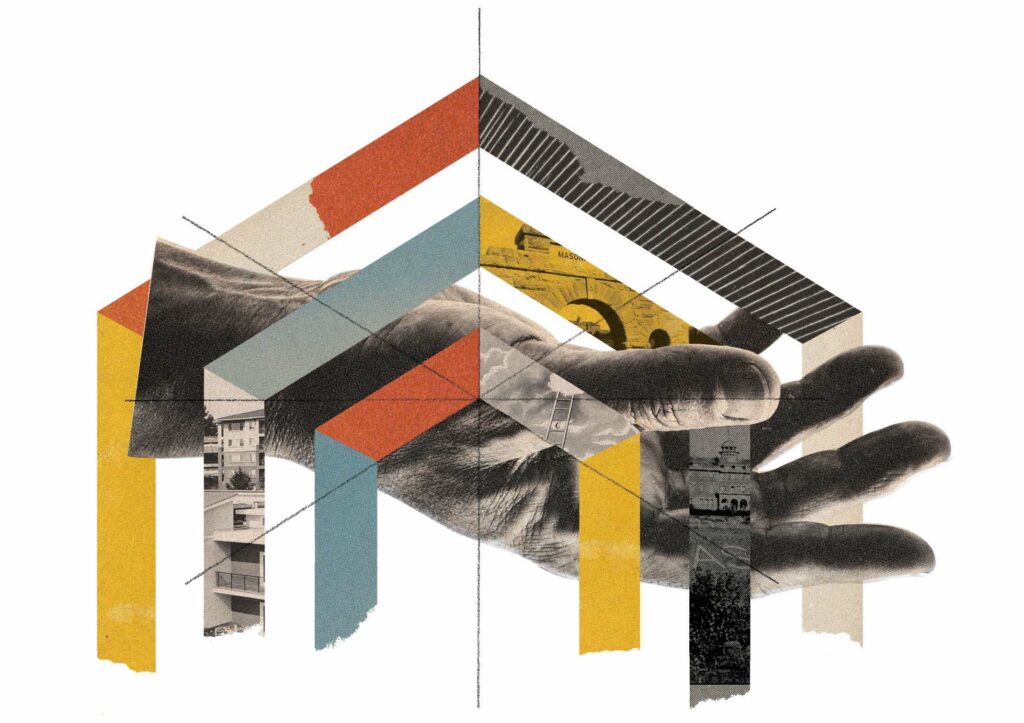 Back in 2018, Gary Charland, the president and CEO of the Masonic Homes of California, packed each member of his board of directors into golf carts and took them on an impromptu tour of the Union City campus. It wasn't pretty. "I specifically made sure we hit every bump in the road," Charland says now with a chuckle. There were plenty. He also pointed out the things that were missing—namely, sidewalks and walkways for pedestrians. On a campus known for its natural beauty, there wasn't an easy way for residents to enjoy the outdoors. Charland made sure board members noticed that, too. 
Then he brought them inside. He pointed out cracked tiles and wasted space. He was unsparing. Finally, he turned to the challenge of caring for an aging population and what it meant for the Masonic Homes of California for the next 10, 20, or 100 years. He returned to a phrase he'd learned from several past grand masters: The Masonic Homes is the jewel in the crown of California Freemasonry. The clinical care, culture, and support services at the Masonic Homes are among the finest in the industry. But all that good work depends on infrastructure. And that needed major upgrades. The jewel needed polishing.  
Soon after, the board voted to adopt an ambitious plan to bring the Masonic Homes up to date. The first phase was titled Roadmap: 2020. The fraternity agreed, with members donating $4.7 million to the Masonic Homes over three years through the Let's Write the Future campaign, which raised a total of more than $7.5 million.
Today, the results of that plan are coming into view. Most of the largest elements have been completed or are nearing completion. And for all the visible upgrades, perhaps the biggest impact of this work is this: For years, the waitlist to move into the Masonic Homes hovered around two and a half years. Now, it's zero. 
About seven in ten people over 65 will need some form of long-term care as they age. That's a bigger slice of the population than ever before. And as lifespans increase, the baby boomer generation will require even higher levels of assistance. The Masonic Homes' master plan tackles both demands: more residents, and more advanced care. 
"We need to afford people the ability to progress through levels of care," Charland explains. To do that, MHC rebalanced how many spots it offers for residents in independent living settings, compared to those in assisted living, memory care, and skilled nursing environments. Furthermore, each of those spaces are now tailored to meet the unique needs of each care model.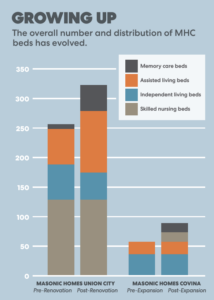 On the Union City campus, that included major renovations to the Adams and Wollenburg buildings. Both were constructed in the 1960s and had hardly been touched since then. Now, sweeping renovations have brought them up to snuff—and then some. Adams' updates were completed this winter, transitioning the building from a mix of independent and assisted living to exclusively assisted living. All resident rooms are now ADA accessible and have been remodeled to maximize natural light and connect to inviting new communal areas. An updated outdoor dining space borders a community garden. Other areas have been transformed into a communal pub and movie theater. 
Next door, the Wollenburg building is on track to reopen in fall 2022 with new and improved spaces available for those requiring specialized memory care or assistance with day-to-day needs. As the number of residents requiring care related to memory conditions including Alzheimer's and other forms of dementia continues to grow, the need for facilities geared toward those dealing with memory loss has expanded. To keep up, Wollenburg's shared rooms are being renovated into larger and more comfortable private suites. An additional two floors of the building are designed to flex to memory care as needed. That means certain features, like the ability for staff to secure doors remotely to prevent wandering, can be activated if necessary. As chief clinical officer Joseph Pritchard explains, "We grow as our residents grow." 
In both buildings, private rooms are now clustered around shared spaces, making it easy to enjoy community and privacy. Several residents had already requested this kind of set-up, known as the "neighborhood model." It also happens to be an industry best practice. 
New Construction for Growing Needs
Just down the hill in Union City, below the Acacia Creek independent living community, perhaps the most significant element of the campus plan was unveiled in October. The brand-new, two-story building, dubbed the Pavilion at the Masonic Homes, provides 28 beds for residents in need of assisted living services and specialized memory care. The Pavilion is open to both Masons and non-Masons, including family members who previously didn't qualify to live in the Masonic Homes. Now, as Masonic Homes and Acacia Creek residents progress to higher levels of care, they have those resources just steps away.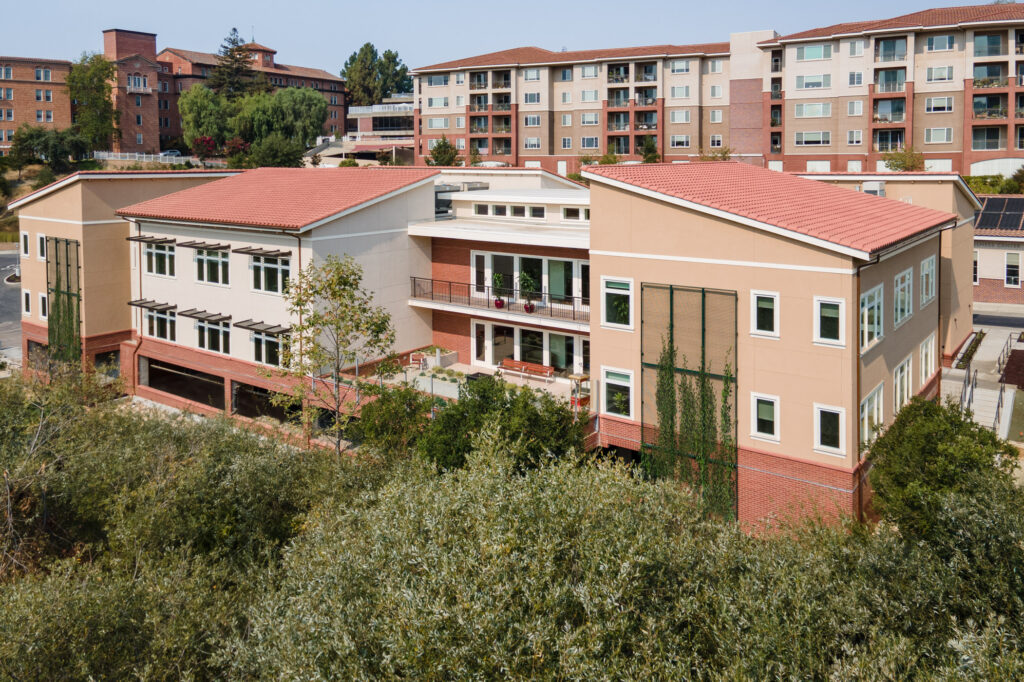 Within a month of the Pavilion's opening, several residents of the Masonic Homes and Acacia Creek had already moved in. One had been struggling with cognitive issues for the past year, during which her family had been draining their savings to bring in 24/7 external care. "When the Pavilion opened, it was the light at the end of the tunnel," Pritchard says. "When the resident saw the space, she fell in love with it. She has access to a beautiful garden. She has guided activities, with people who pick her up at her room to make sure she doesn't get lost. There's this whole experience that she wouldn't be able to get anywhere else." 
In Covina, there's a similar light at the end of the tunnel. Soon, a new skilled nursing facility will open on campus. Skilled nursing is the highest level of care, and it requires a medical setting. Until now, residents at Covina who needed that level of care had to move off-campus to receive it. With the opening of the new building, they can stay in the community where they've built their life while receiving the services they need. There are already 17 people on the waiting list. "We'll no longer need to separate a husband from his wife, a widow from her friends," Charland says. It's something Masonic Homes leaders, and the fraternity at large, has wanted for a long time. "California Masons should be very proud. Not a lot of nonprofits are investing in new buildings in our industry," Pritchard says. Through the campus master plan, the Masonic Homes just built two. 
Outdoor Spaces, the MHC Way
These days, when Charland drives to work, he sees residents strolling the new sidewalks and relaxing at scenic overlooks. His favorite of these looks west, over the San Francisco Bay. It was previously an unused parking lot, occupied by a trash compactor. A veterans' memorial is in the works to be set in the heart of the campus. Other patios have been transformed from crumbling pavement into attractive outdoor spaces, ready to usher in a post-pandemic era of community gatherings.
Some of these changes came directly from staff and residents: Back in 2018, campus residents got everyone together for a contest modeled after the reality show Shark Tank, where they pitched their ideas for improvements to the campus. From native landscaping to replacing a rickety stairway, the winning ideas wound up on the campus plan's roadmap.
That kind of ownership is baked into the staff ethos, known as the Masonic Homes Way, Charland says.
"The campus master plan has been a game changer," he says. "All of our staff is really proud of how far we've come. We've gained a reputation as being leaders in the industry. And seeing the difference we get to make in the lives of our residents, that's what it's all about."
The Helpers
Calls for service through MCYAF keep climbing.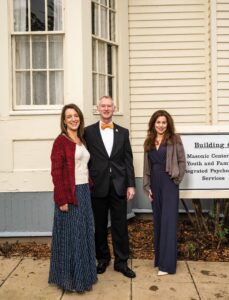 The past two years have been a time of unprecedented growth for the Masonic Center for Youth and Families. Since transitioning to a nearly all-virtual model in 2020, the organization has served an ever-growing number of clients in need of educational assistance, therapy, and emotional wellness services.
The result has been an explosion in their caseload. In 2021, the organization served 1,372 people. Much of the growth was attributed to outreach into the Masonic Homes, where MCYAF offered virtual visits for residents and wellness programs for staff, as well as efforts to bring services to members of the Masonic youth orders. That included hundreds of hours of one-on-one wellness support sessions, planning meetings, and crisis support. Says executive director Kimberly Rich, "We're slammed. That's something great that has come out of the pandemic. In the past, it was expensive and difficult to reach so many people. Now, more people are able to access our services and get the help they need."
Read More From the 2021 Fraternity Report