August 2022: The Welcome Brigade
First, the good news: Membership inquiries to the fraternity are up—way up. The reasons for that are myriad, including a recently revamped online membership portal at freemason.org, new online resources geared toward prospects, and a redoubled social media push. There's also the old-fashioned word-of-mouth promotion that members and lodges throughout the state have been encouraged to participate in (and which they have). What it's all added up to is a spike in the number of people reaching out online about joining a lodge. To wit:
Since March 2022:
2,885 people have filled out an initial online membership inquiry form from freemason.org.
779 of those prospects have spoken with a Membership Advisor from Grand Lodge. (Many more are in the queue.) 
423 have been connected to a lodge.
Compared to previous years, that's an incredible increase, and reflects well on the hard work that our lodges and grand lodge have invested lately. For the first time in years, in some cases, our lodges now have surfeit of prospects interested in applying for membership.
Now, the not-great news: Not every lodge is well-prepared to handle new prospects.
Whether it's because a lodge doesn't have a specific person or group established to welcome prospects, or their info is simply getting lost in the shuffle, lodges are too often losing contact with prospects who have expressed an interest in joining the fraternity. And when prospects don't hear back from lodges, they walk away. The fraternity loses a potential new member and the reputation of Freemasonry takes an unnecessary hit.
So: We've made great progress on bringing more prospects into the membership pipeline. Now it's time to work on making sure our lodges have the information and resources they need to handle those prospects.
Blake Green is hoping to fix that. Green, a past master of Sacramento No. 40, was recently hired as the Grand Lodge of California's Membership Advisor. His role involves screening online prospects to weed out unserious or ineligible candidates, having initial conversations with them about Freemasonry in general and individual lodges in particular, and ultimately referring them to a local lodge. Says Green, "I'm the proverbial Virgil, guiding prospects along on their journey from initial interest to meeting their potential new lodge." Before serving in his current role, he was also his lodge's prospect point person. "Now, I do that on the state level," he says.
Green's job doesn't end when he's passed a prospect off to a lodge, however. He'll follow up with each prospect and lodge weeks or months later to make sure they've connected and had all their questions answered. For those that haven't found a perfect fit, he'll refer them elsewhere.
In the short time since taking on the position, he's directed prospects to about one-third of all lodges in California—meaning many officers have already interacted with him at least once. In the months ahead, expect that number to rise. And remember that Green is not just a resource for prospects—he's also here to help lodges and lodge leaders answer questions they may have about membership. "I'm here to help lodges. That's my mission," Green says. "I also want to help the fraternity grow and share Freemasonry with more people. That's what gets me to the phones every day."
Questions? Reach out at bgreen@freemason.org.
As more prospects are routed from online inquiries to local lodges, it's important that those lodges have processes in place to welcome and receive them. Here, Green and members of the Grand Lodge Leadership Committee offer advice on ways to handle a larger flow of prospective members—and ways successfully integrate them. (For more, see the October 2021 issue of the Leader.)
Getting Buy-in
Sit down as a lodge and discuss the downsides to losing out on prospects. What does it mean for your lodge? Gaining fewer new Masons is the easiest answer. But more broadly, think about how people walking away from a lodge affects their view of Freemasonry as a whole—and what they'd likely tell their own friends about the fraternity. "A lost prospect might hurt one lodge a bit, but it hurts Masonry as a whole a lot more," says Carlos Diez, a member of the Grand Lodge's Leadership Committee and a member of Solomon's Staircase No. 357.
As a lodge, make sure you've already established or start up a welcoming committee that has roles, policies, and procedures for dealing with new prospects. Some members might not be excited about the committee or even see the need to provide a more welcoming environment. That's OK, according to Diez. "Just get the guys who are enthused about it, and if not everyone is excited, that's fine—just get a core group to start."
How to Respond to Membership Inquiries
At its most basic, the welcoming committee should be an answer to these four questions: What do you do when someone leaves a voicemail, an email, a social media message, or walks into the lodge to ask about membership? That's the what. From there, you can figure out the who and how.
Assigning a point person and a backup to each task will ensure prospects don't fall through the cracks. And you'll know that someone is frequently checking each of those channels, with one person ultimately responsible for making sure prospects' questions are being answered.
Don't limit the committee to longer-tenured members. New members are often the most enthusiastic about the lodge, and it can be a great way to keep them engaged.
Interacting with Prospects
The first thing to do when you respond to a message is to answer any questions and be a resource. At the end of a conversation or message, invite them to the next lodge event.
Direct prospects to reputable resources like the Grand Lodge website, which includes lots of basic information about Freemasonry.
Match prospects with members who have similar interests. For instance, when one prospect walked into Diez's lodge and told him he was a mechanic, Diez invited a fellow member who works as a machinist to chat with him. "That immediately put the guy at ease and showed him we were just like everyone else."
Don't be too quick to offer an application. Let the prospective member get to know the lodge first. Some lodges wait as much as six months. Just don't let a prospect wither on the vine. As long as they're being communicated with and not ignored, they'll stick around to learn more.
A hearty thank-you to everyone who participated in our first-ever #ImAMason social media campaign. As many of you likely experienced, it was quite a sight to see our Facebook feeds taken over by red square-and-compass profile pictures. And some of the stories we read from members about what Freemasonry means to them were truly inspiring. Here are a few favorites: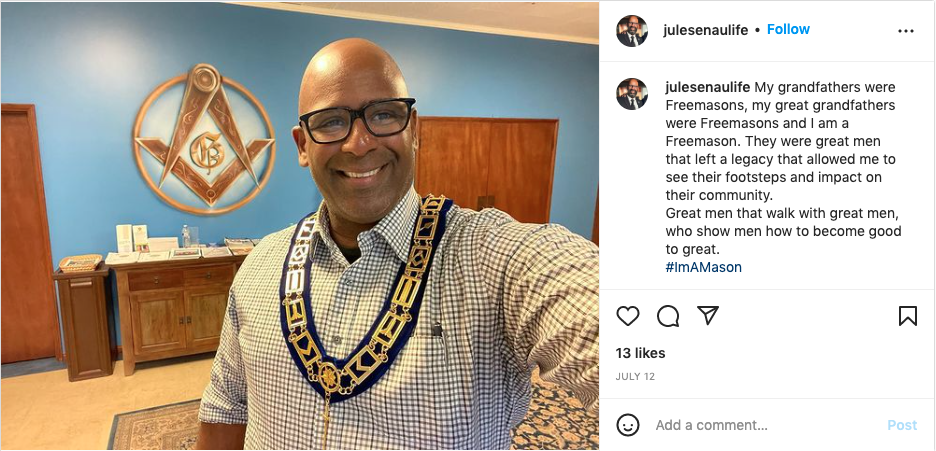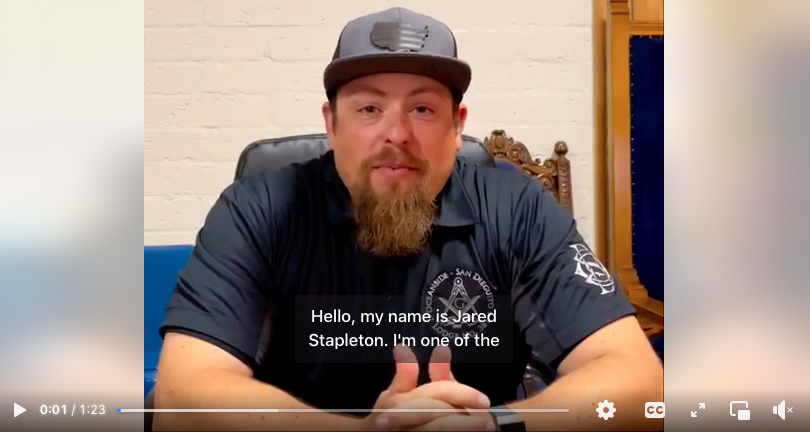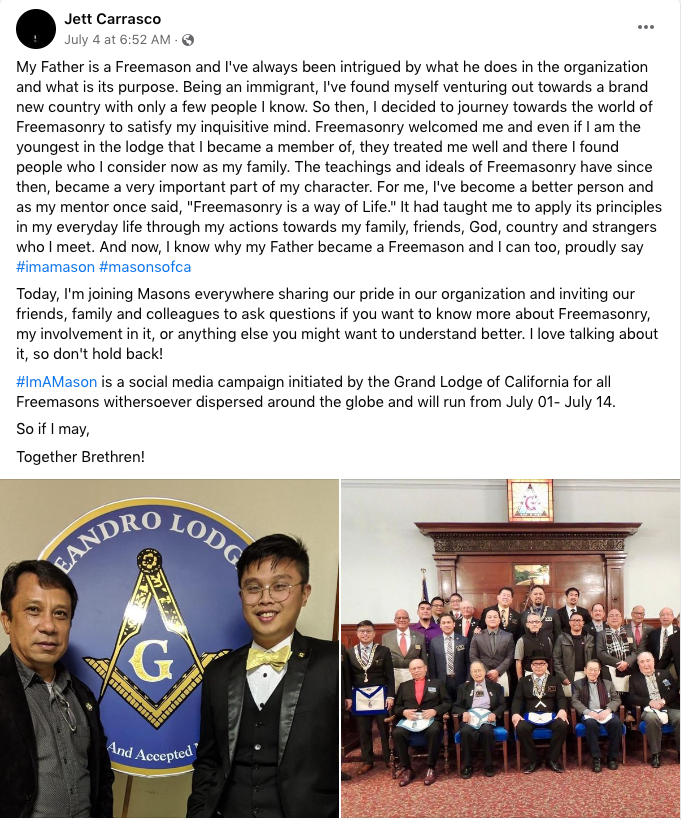 We even saw other Masonic jurisdictions pick up on the trend—including posts from the grand lodges of Georgia, South Carolina, Washington, Ohio, Arizona, Texas, and even as far afield as Queensland, Australia.
All in all, #ImAMason reached approximately 2.8 million people, making it by far our largest and most successful social media campaign ever. Hopefully, this can be the spark that gets our members and lodges comfortable talking about everything that Masonry means to them—and helps us make good on our 2025 Fraternity Plan commitment to improving positive public awareness of Freemasonry.
Stay on track of lodge business and prepare for important deadlines. Here's your August checklist.
Executive Committee
Make plans for your lodge master, wardens, or other representatives to attend the Annual Communication this October. 
Senior Warden, along with Executive Committee
Identify and approach members for 2023 open elected and appointed officer positions.
Urge presumptive master, wardens, and senior deacon to perform their Master Mason's proficiency soon, if not already completed.
Urge respective officers to answer the master, senior warden, and junior warden questions early.
Identify and approach members for the 2023 Audit, Membership Retention, and any other committees.
Set calendar for 2023 and identify event leaders.
Continue preparing 2023 budget.
Set installation date and approach installing officer, master of ceremonies, and chaplain.
Review all candidates' progress toward advancement.
Junior Warden
Continue tracking 100 percent officer giving to the Annual Fund, with officers setting an example through gifts that represent their capability as well as their commitment to our charitable programs.
Secretary
Pay lodge per capita.
Prepare semi-annual report of membership activity, due in August.
Treasurer
Pay lodge per capita.
Prepare semi-annual report of membership activity, due in August.
If your lodge has employees, file quarterly federal payroll tax form 941 (unless IRS has approved an annual filing of form 944, due in February),
If your lodge has employees, file quarterly state payroll tax form DE9/DE9C and deposit form DE88.
Using the Paychex Payroll system? Paychex will complete and file the above quarterly payroll tax returns for you.Make sure to process your payroll in the Paychex Payroll system on a monthly/regular basis.
Begin preparing semi-annual financial report, due in August. Using Intacct? The report is available and auto-generated from the Intacct system. If you need assistance to update your financial records in Intacct. please contact financial services, Tel: 415-292-9170, financialservices@freemason.org.
Hall Association
Present semi-annual report, due in August.
Questions? Contact Member Services at memberservices@freemason.org or (415) 776-7000.
Last month, we asked do you ever talk about Freemasonry, your membership, or your lodge on social media (Facebook, Twitter, Instagram, LinkedIn, etc.)? Of those that responded: