The World in Harmony
BUILDING PEACE AND UNDERSTANDING THROUGH
FRIENDSHIP, SERVICE, AND SELF-IMPROVEMENT.
By Ian A. Stewart
If you want to see the future of Freemasonry in California, start by looking to the past. The distant past.
In 2020, the fraternity embarked on an ambitious project: to collectively imagine—and then formalize—vision and mission statements to help plan the next several years and guide Masonry into the year 2050, the bicentennial of its arrival in California. The exercise involved asking hundreds of current and former members, as well as people outside the fraternity, for feedback both positive and negative and to imagine a path forward. As soon became clear, inspiration for many came directly from the earliest California Masons.
In the 1800s, Masons from every corner of the country and abroad were lured west by California's gold rush, and they soon formed a patchwork of lodges—men of disparate backgrounds, all of whom were eager to provide mutual aid to one another and build a new life far from home. Today, California Masons are driven by the same basic desires: to make lasting friendships, provide aid, and work toward a deeper understanding of themselves—with some subtle updates. From the many hours of conversation with lodge leaders, and numerous brainstorming sessions with a newly formed strategic planning committee, came a 2050 vision statement: The World in Harmony. A mission statement was formulated for how the fraternity proposes to bring that vision to life: By building peace and understanding through friendship, service, and self-improvement.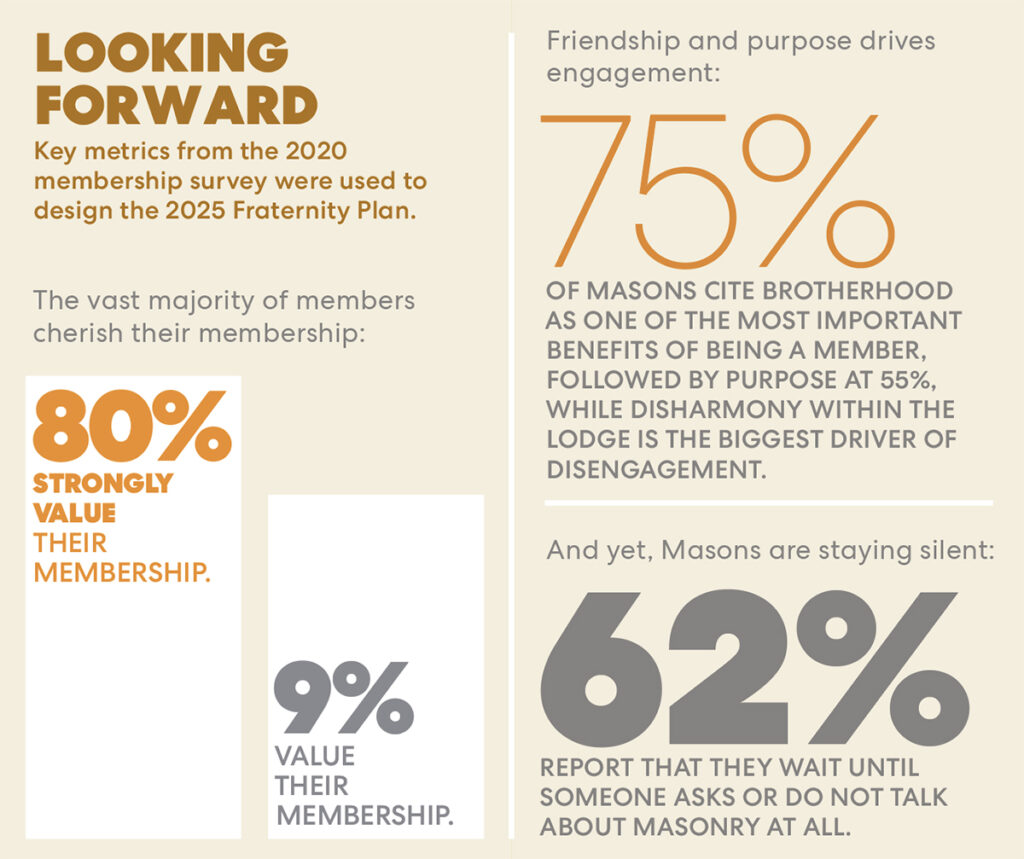 Says Brandon Lippincott, of Conejo Valley Lodge No. 807 and a member of the strategic planning committee, "The goal is very large—it's super ambitious. But the more I think about it, the more I feel that it's something we can all participate in. This is something that everybody can use to make a difference."
For the first time, the Masons of California have a target for all future plans, campaigns, and initiatives. Its influence is already being felt.
A NEW PLAN
Over the past year, the fraternity formally closed out the 2020 Fraternity Plan, its five-year guide, and began building a framework for the 2025 Fraternity Plan. Whereas the 2020 Fraternity Plan was mostly focused on strengthening infrastructure, the goal now is to help lodges flourish by improving the member experience at all levels.
The plan rests on three pillars: lifelong friendship, diversity and harmony, and positive awareness.
To longtime Masons, these themes should sound familiar. However, the idea isn't simply to maintain the status quo. Rather, the pillars address three areas in which feedback from members and the wider public suggested an opportunity to address a weakness (such as improving the public's understanding of Freemasonry) or reemphasize a historic strength. Lifelong friendship, for instance, is already a calling card for Freemasonry. The 2025 Plan calls for lodges to capitalize on that by developing initiatives that maximize opportunities for fellowship.
Lodge harmony emerged in member surveys as one of the most important indicators of people's overall perception of the fraternity. Fittingly, maintaining harmony will be a point of emphasis moving forward. Whether it's addressing schisms between younger and older members or reducing the prevalence of cliques, finding ways to ensure that all members feel comfortable and valued is of utmost importance. Included under that rubric is embracing diversity. That means helping lodges to seek out and make themselves welcoming to people of all races and backgrounds, ensuring leadership is diverse at every level of the fraternity, and collaborating with other Masonic organizations.
The third pillar is about improving awareness of the fraternity among the larger public. Masons have much to be proud of, but too often lack the tools or encouragement to share their stories with the world. Over the next five years, the Grand Lodge will empower members to more comfortably discuss Masonry with friends and family and to help publicize the good work lodges do in their communities and around the state.
THE FUTURE IS NOW
When Masons resume meeting in person post-pandemic, they'll be doing so in a very different world than the one that existed a year ago. The future we've been planning for is already upon us. How lodges respond will determine the health and success of the fraternity for years to come. The goal of the strategic plan—and the vision and mission statements that birthed it—is to position California lodges to thrive in that new world.
"We're going to evolve," Grand Master Art Weiss says. "We have an opportunity to build a whole new level to the fraternity that we've never had before. I think that's exciting."
Yet the values that will guide us there are timeless. No matter what the year 2050 looks like, Masons will continue to come together in search of friendship, community, and self-improvement.
Read More From the Annual Report