The Leader
April 2021: Social Media
On Instagram, a Picture's Worth a Thousand Likes
As a barber, Alan Clayton already knew something about the importance of projecting a certain image into the world. As a business owner, he understood the power of brand-building. And as a Millennial, he knew all about Instagram.
That digital skillset has been a boon to Clayton and his fellow members of La Jolla Lodge No. 518, where four years ago Clayton and past master David Ristau began to kick the lodge's social media presence into high gear. The pair revamped the lodge's website and Facebook page, and launched a brand-new presence on Instagram, @SanDiegoFreemasons. In just a few years, they've amassed more than 4,600 followers on just that platform alone, making it one of the most successful lodge profiles in the state.
The result has been not only a dramatic rise in the lodge's online visibility, but also a change in the lodge's very mentality. "You want to give people a feeling of what you're all about—what image you're trying to give off," Clayton explains. "You're a young, active lodge of guys hanging out. We want to be able to portray that for people online."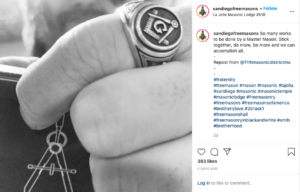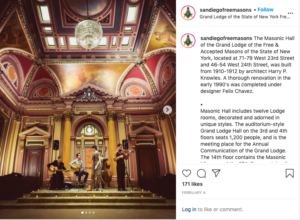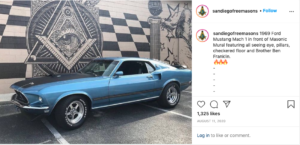 As the fraternity begins rolling out its 2025 Plan, a key component will be increasing positive awareness of the fraternity in the general public. Increasingly, that means online, where a vast majority of candidates and prospects first learn about Freemasonry and approach local lodges. More and more, people's first impression of a lodge, or the fraternity, happens over social media. For Clayton and the members of La Jolla No. 518, it was important to make sure that digital front door was as inviting as possible. "We're very self-conscious about the image of Freemasonry that we put out there," he says. "We want to create a new image of Masonry, but always a positive one."
Clayton says that since relaunching the lodge's social pages, more than half of interested prospects who contact the lodge say they were referred there through Instagram. More than that, he says, "The people coming to us through Instagram tend to ask the better questions. They read all our posts. They tend to have a much better sense of what we're about before they fill out the application."
It doesn't take a digital branding expert or a teenage Tik-Tok influencer to increase a lodge's online presence, either. Just a commitment to engaging with the platforms and seeing them as extensions of the lodge itself. "I remember when I took the degrees, one of our past masters told me, 'Act like you're the only Mason someone will ever meet,'" Clayton recalls. "So that's what we do with our social pages. They might be the only impression someone ever makes of Freemasonry."
Getting from Heart to Fire

A few lessons on building a social-media presence from those doing it well.
• Know your platform: Understanding what works on Facebook versus what will appeal to those on Instagram is important. Someone who comes to your lodge's YouTube channel is more likely to be willing to engage with a 10-minute deep-dive video on the origins of Freemasonry, whereas Facebook is great for posting photos of lodge activities. Instagram is all about aesthetics. Clayton points to the clothing company Patagonia. "They never post a photo of a T-shirt on Instagram," he says. "It's beautiful pictures of people being outdoors who just happen to be wearing their clothes." Instagram is about capturing and projecting a feeling.
• Be consistent: At La Jolla No. 518, Clayton and past master Ristau share responsibility for posting to the lodge's social media pages. What they've found is that consistency—both in terms of timing and tone—is key. That means developing a sort of visual and linguistic lodge brand, and then sticking to it. "When things are too random, people bounce off your page," Clayton says. "But if it feels cohesive, it makes you want to scroll through the page more and learn more." It's also important to post frequently, says DeAndre Simmons, the de facto social media coordinator for San Diego Lodge No. 35, which has also stepped up its social game in recent years.
• Be prompt: When outsiders write to or post on the lodge's pages, the lodge's social media admins make a point of reaching back out as fast as possible. "We write back insanely quickly," Clayton says. He also points out that the more visible your pages become, the more likely it is you'll see cranks and trolls reaching out. Ignore them. "We want to engage with people who are asking the right questions," Clayton says.
• Be social: It is social media, after all. Follow other Masonic pages and repost their best shots. It creates an ever-widening positive feedback loop of reposts and shares—and gets your name and content in front of more and more eyes. "Piggybacking off other Masonic pages is a big part of our success," Clayton says. It's also made them a lot of friends.
• Plan in advance: Assign a lodge photographer or consider hiring a professional for big lodge events. The better and more captivating your images are online, the more inviting they'll be to outsiders. "If all people see of your lodge online is blurry photos of the outside of the lodge building, that's all they'll know about your lodge," Clayton says.
• Copy the best: See what's working well for other Masonic lodges and platforms and adapt it to fit your lodge's personality.
Reminders and Masonic News
Happy Hour Magazine Launch Party with Grand Master Weiss
Join Grand Master Arthur Weiss on Facebook Live  for a special Happy Hour on April 7 as we salute the launch of California Freemason magazine's Spring Drinks issue. Weiss will be joined by Assistant Grand Secretary Jordan Yelinek and Phillipe Milgrom of Club 50 to celebrate the issue launch and to explore the many ways that a good drink can deepen the fraternal bonds of friendship. To participate, simply visit the Masons of California's page on Facebook at 5 p.m. PST and follow (and toast) along.
Happy Hour Magazine Launch Party with Art Weiss and Friends
Wednesday, April 7, 5 p.m.

Virtual 2021 International Conference on Freemasonry
For more than 300 years, Masonic teachings and symbolism have attracted those in search of deeper, secret meanings about the natural and even supernatural world. These esoteric pursuits, shrouded in mystery and mysticism, have endured through the centuries and even today, continue to fascinate seekers around the world. Online for the first time, experts and scholars on Freemasonry will meet on April 10 to discuss the eternal quest for esoteric knowledge and its broader relationship to the craft. The ninth annual International Conference on Freemasonry is a rare chance for Masons and non-Masons alike to dive into metaphysics, antiquity, and the occult.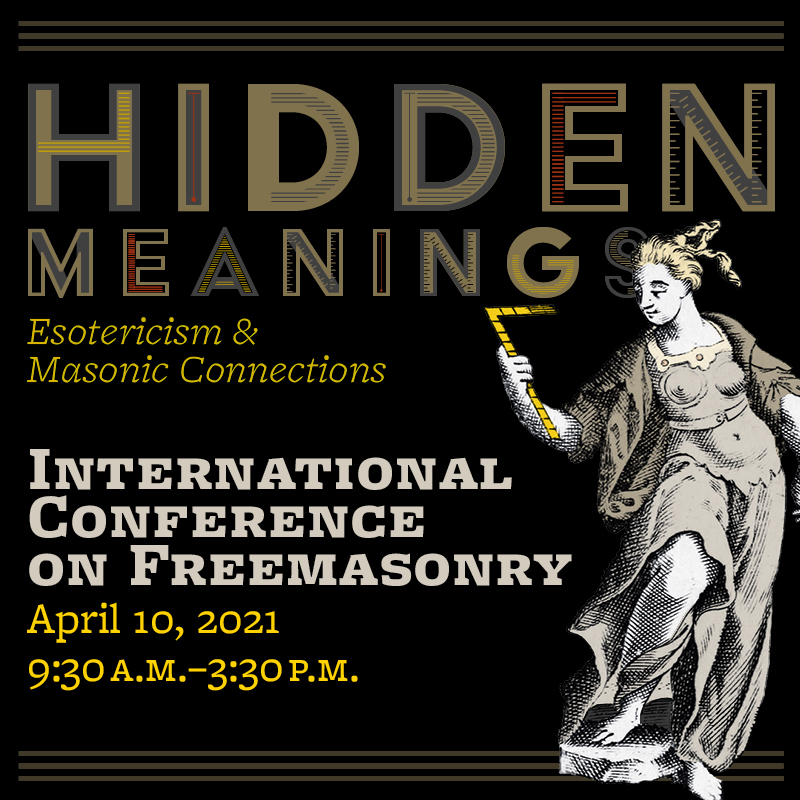 Hidden Meanings: Esotericism and Masonic Connections
Saturday April 10, 9:30 a.m.
New Functionality in iMember 2.0
Lodge secretaries, treasurers, and masters can now get even more out of iMember 2.0, as two new features are now available. Both are simple to use and will make the program richer and more streamlined.
Lodge Surveys
Lodge and Grand Lodge leaders now have the ability to create and send surveys to their members. Whether that means finding the best time for ritual practice or seeing how many people are interested in a golf tournament, it's a great tool for taking the temperature of the lodge. To create a survey, visit the Lodge Dashboard, then select Engagement, then select Surveys, and Create Survey.
Credit Card Processing Fees Options
The fees charged when users pay their membership dues through iMember 2.0 via credit card have up until now been absorbed by the lodge. Now, lodge leaders can choose whether to pass that fee on to the member or pay it as a lodge. To update the lodge's online payment settings, visit the Lodge Dashboard, then select Dues & Payments in the sidebar to navigate to the Dues & Payments dashboard. From there, click on Settings from the dropdown menu at left. Under the Online Payment Settings, click Edit. There, you can slide the button from Yes to No or back to pass the processing fee to members. Click the Save button when you've made your selection.
Member Services Q-and-A
Beginning March 24, lodge secretaries and assistant secretaries are invited to drop in on Question and Answer Time with Member Services, a series of monthly online sessions via Zoom where they can ask questions and get important updates from fellow officers and the Grand Lodge Member Services team. Have questions or concerns about online dues payments? Need support with lodge secretary duties such as starting the Hiram Award process or reporting membership activity? Don't miss out on these important monthly sessions and get the resources to optimize your lodge for the rest of the year.
Q-and-A Time with Member Services
Wednesday, April 21, 2–3 p.m.
Wednesday, May 19, 2–3 p.m.
Your April Checklist
Stay on track of lodge business and prepare for important deadlines. Here's your April checklist.
Executive Committee
Prepare any proposed legislation for Annual Communication, due April 24.
Senior Warden
Begin preparing 2022 program plan.
Begin preparing 2022 budget, remembering to set aside funds for retreat attendance.
Begin preparing 2022 officer appointments.
Begin preparing 2022 installation of officers.
Review all candidates' progress toward advancement.
Junior Warden
Begin tracking 100 percent officer giving to the Annual Fund, with officers setting an example through gifts that represent their capability as well as their commitment to our charitable programs.
Secretary
Continue to collect delinquent dues from members (were due on January 1).
Send list of members with late dues to the master for the Retention Committee.
Send any suspension notices.
Charity Committee considers remissions.
Treasurer
If your lodge has employees, file quarterly federal payroll tax form 941 (unless IRS has approved an annual filing of form 944, due in February).
If your lodge has employees, file quarterly state payroll tax form DE9/DE9C and deposit form DE88.
Prepare IRS form 990 and FTB form 199, both due by May 15 (unless your lodge has previously agreed to have Grand Lodge prepare these forms).
Audit Committee
Audit lodge books, to be completed by end of month.
Hall Association
Prepare form 200, due to Grand Lodge by May 15.
Prepare IRS form 990 and FTB form 199, both due by May 15.
Prepare insurance premium payment, due in May.
Questions? Contact Member Services at memberservices@freemason.org or (415) 776-7000.
Question of the Month
Last month we asked what kinds of sister-lodge events your lodge would be interested in doing. Of those that responded:
Participating in Each Other's Degrees - 86%
Virtual Meetings - 46%
Annual Meetups - 40%
Other - 26% (Dinners, BBQs, escape rooms, game nights, sports, and other fun events. Events that include ladies, i.e. Annual Picnic, sports or hobby tournament, etc. Participating in each other's Stated Meetings (on the level, and in three dimensions), as we had been doing (traveling gavel, etc.) before current restrictions. The so-called virtual "meeting" is an acceptable substitute for the moment, given current conditions, but it is not a preferred means of taking care of our business).
Here's your next survey question
.