The Online Masonic SPEAKER Series
NEW SPEAKERS SERIES BRINGS MASONIC EXPERTS ONLINE
Join the Masons of California for an exciting and entirely digital speakers' series featuring lectures and talks from Masonic experts on a range of topics. All events are totally free—to attend, simply register through On24 by clicking on the green button below. Spread the word about these informative online events.
If you've missed one, catch up on past lectures on our archives page.
Adam Kendall:
The Scandals and Secret Rites of Benjamin Hyam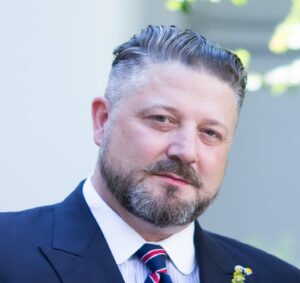 Join Adam Kendall for a biographical deep dive into one of California Freemasonry's most unsung—and misunderstood—pioneers. Through Benjamin Hyam's forays into Masonic politics, obscure high-degree rites, and a little-known alliance with the famous esotericist John Yarker, Kendall paints a picture of the power dynamics of the 19thcentury fraternal experience and sheds light on the complex yet subtle network of people and events that influenced the character of a growing nation.
Adam Kendall is a California-based historian and Freemason, a member of Quatuor Coronati Lodge No. 2076, and the editor of the Scottish Rite Research Society quarterly, The Plumbline. Additionally, he serves as second vice president of the Philalethes Society. His publications and lectures concern the more obscure relationships between American popular culture, social movements, and fraternal societies during the mid-19th and early 20th centuries.
Martin Faulks: A Mosaic Palace: Freemasonry and the Art of Memory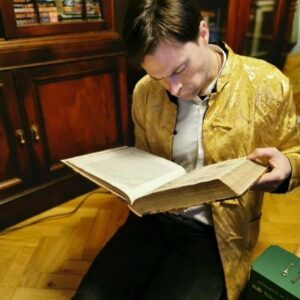 In the 16th century, William Schaw, the royally appointed Master of the Works, issued the "Schaw Statutes," which acted as a code of rules governing the activities of operative Masons in Scotland. Within it, he stated that "The Warden of the Lodge… shall take trial of the art of memory and science thereof of every fellow craft and every apprentice according to their vocation and in case that they have lost any point thereof… pay the penalty as follows for their slothfulness."
During the 16th century, the "art of memory" had far greater connotations than it may to the modern reader. It referred to a specific set of memory disciplines and techniques whereby one would create a memory palace, a kind of mnemonic storehouse. Why did Schaw make it mandatory for Masons to practice the art of memory, and why did they need to be tested in this art? Was it a reference to Masonic ritual and if so, does this mean the Masonic lodge is a form of memory palace? Join Martin Faulks as he explores exoteric and esoteric concepts associated with operative and speculative Masonry alike, back to the very roots of the craft we cherish today.
Martin Faulks is a member of Quatuor Coronati Lodge No. 2076, and holds past grand rank in the craft while remaining active within various  progressive orders. Professionally, Martin is a world renowned researcher, author, and lecturer, and serves as the general manager of Lewis Masonic Publishing.