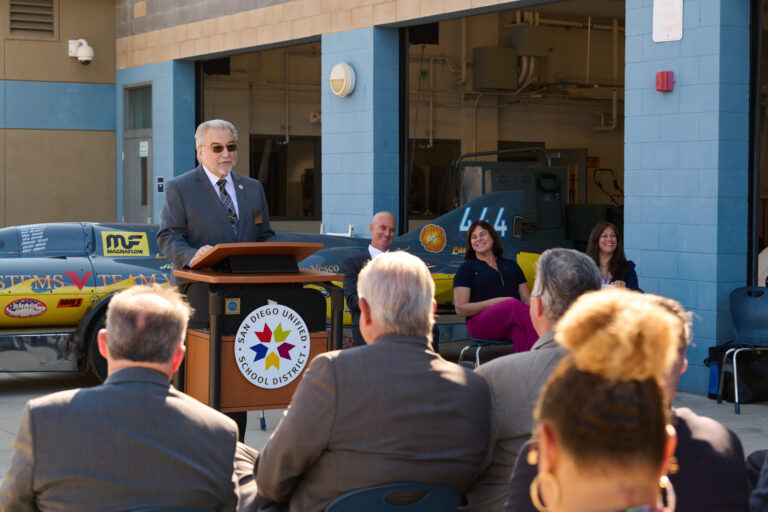 CALIFORNIA MASONS ANNOUNCE $390,000, THREE-YEAR GRANT TO SAN DIEGO UNIFIED SCHOOL DISTRICT
Grant Will Support Expansion of High School Career Technical Education Programs
Across the District
Monday, Oct. 3, 2023 – SAN DIEGO – Today the Masons of California, together with San Diego Unified School District (SDUSD), announced a $390,000, three-year grant to SDUSD in support of its career technical education (CTE) programs. The grant will enable SDUSD to expand its CTE programming to more high schools within the district and serve an additional 3,000 students through these transformative programs.
"Approximately 64% of SDUSD graduates do not immediately enter four-year college programs and, instead, pursue other purposeful pathways," said Dr. Lamont A. Jackson, superintendent of San Diego Unified School District. "This grant will provide funds to help support this population by equipping them with the skills, both hard and soft, and education necessary to succeed in other meaningful, post-secondary pathways."
Specifically, the grant will enable the expansion of CTE programs within the automotive technology and building construction trades industries. As a result of the additional funding, two additional, district-wide programs will be offered. The first program, a five-week Saturday program, will be focused on automotive systems, diagnostics and repairs and will offer students the opportunity to gain hands-on experience in the industry. The grant will also support a Summer Enrichment program, which comprises a five-week course that qualifies for school credit and includes a two-week paid internship experience.
Additionally, the grant will fund the hire of a .5 post-secondary preparation coach/work-based learning resource teacher who will be responsible for program outreach, enrollment and awareness among students, as well as establishing partnerships with local businesses and conducting program evaluations. Through the grant, SDUSD will also be able to facilitate campus visits and guest speakers for SDUSD high school students, with a focus on community college programs and apprenticeships.
"When it comes to post-secondary education, there is a huge perception gap. Many people still have the antiquated view that the only way to have a successful career is through a four-year college program," said Doug Ismail, president of the California Masonic Foundation. "Having access to CTE programs as a part of a high school curriculum enables both students and their families to experience and understand that there is a strong pathway to a stable, living wage outside of a four-year program, and that these pathways lead to real jobs that are available in the San Diego market today."
Masons of California and SDUSD evaluated economic data for San Diego County, as well as student interest information, to identify industries the grant will support, with the goal of growing a skilled San Diego-based workforce to support future employment needs. According to local employment projections, San Diego County expects 190,000 job openings in the construction and automotive trades from 2020 to 2030.
"We're so excited to be able to expand our CTE offerings," said Sarah Vielma, director of college, career and technical education at San Diego Unified School District. "While our automotive technology and building & construction trade programs have the lowest enrollment due to current budget and staffing restraints, they also garner the highest levels of interest among students. Through this funding, these programs will now be able to accept and serve more students who are eager to take advantage of CTE in new locations across the district."
About the Masons of California
Freemasonry is the world's first and largest fraternal organization, guided by the enduring belief that everyone has the responsibility to make the world a better place. For 300 years, Freemasonry has enhanced and strengthened the character of its members by providing opportunities for fellowship, charity, and the search for truth—within themselves and the larger world. Through Freemasonry, we make true friends, improve ourselves, and make a positive impact on our communities. The Masons of California have more than 38,000 members and more than 330 lodges located throughout the state.  The California Masonic Foundation is committed to making a profound difference in our local community, and touches the lives of thousands of Californians each year. Learn more at freemason.org and follow us on Facebook and Instagram.