Meet the New Grand Master: Jeff Wilkins
From his army career to life in Sonoma, the new grand master reflects on his Masonic journey and approach to service.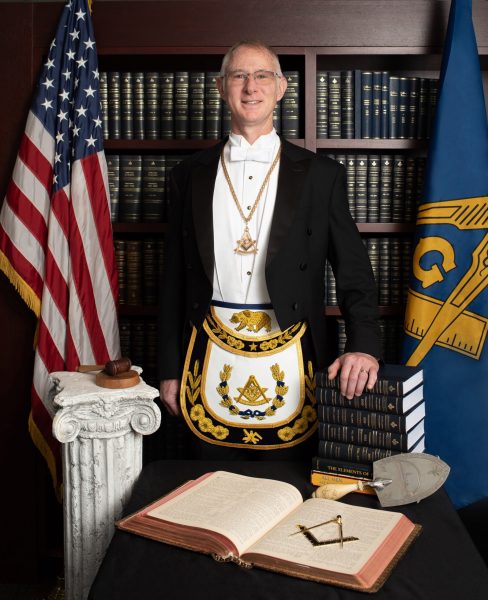 Nobody's path to the east is a straight line. But in the case of Jeff Wilkins, the newly installed Grand Master of Masons in California, his Masonic and professional careers have done even more zigging and zagging than usual. From his childhood in Alabama through an army career that saw him serve in 1990 to 2000 to a second career in Sonoma County as a mechanical engineer, though, he's always been guided by a commitment to service. That's reflected in his leadership roles within his lodge, Mosaic No. 218, as well as with the Eastern Star, the York Rite, Scottish Rite, and the Shrine. Now, as he ascends to the highest Masonic office in the state, Most Worshipful Wilkins reflects on a life in Masonry and applying his own philosophy of service to the fraternity.
Most grand masters tend to be retired, but you're still hard at work. Can you tell me about your work and life?
Ever since I got out of the army 20 years ago, I've been a mechanical engineer. Whether it's in the semiconductor industry or in aerospace, my passion is ensuring that quality products get sent to our customers. My family and I live on a large piece of wooded property in Sonoma County, so a family pastime is swinging a chainsaw and clearing brush. In the garage, I have my woodshop, where I work on projects. I also love to read, mostly history and classic literature, with some novels thrown for a change of pace. My home lodge, Mosaic No. 218, is in Livermore, about an hour and a half away, but I get down there to see the brothers as often as I'm able. I have several friends in other lodges, so after work, I often find myself driving to another lodge to attend a degree.
How did you first get involved in Freemasonry?
When I was in college, my boss at a summer job was a Mason. I had no direct family association with it, but I became interested in learning more. Then, while I was in the army, a friend who was also a Mason was able to answer my questions and sparked my interest even further. As soon as I arrived at my first duty station in Manhattan, Kansas, and settled into my unit, I reached out to a brother in town and asked about joining. The next day, I had a petition from Lafayette Lodge No. 16 in my mailbox.
What is it about the fraternity that spoke to you? 
Being in the army and having grown up in a military family, the fraternity and brotherhood aspect spoke out the loudest. As I progressed through the degrees, the idea of bettering myself while also being able to be of service within the community was incredible. Learning about brotherly love, relief, and truth, and then being able to have an outlet to live those tenets within the lodge really resonated with me. 
Do you have any role models within Masonry? Who's inspired you?
I have several role models. I was blessed to have Past Grand Masters Steve Doan, Larry Adamson, and John Cooper at my installation last weekend. I've also had a few bosses in industry, as well as battalion commanders in the army who were very influential in the development of my leadership style. Most of all, I always look up to my pops, who's looking down on me now.
What made you want to take on the responsibility of a grand lodge officer?
I guess I don't know quite know how to say no. From my earliest days, when I've been asked to help out or to take on a leadership role, I've always said yes. In my lodge in Kansas, it was a case of If not me, then who? I love our gentle craft and would do anything to help out. As I went from being master of my lodge in Livermore to district inspector to assistant grand lecturer, it was a succession of constantly being asked to step up, and me saying yes. I'm still humbled by the call I received a few years back when I was asked if I would be the [nominee for junior grand warden]. It was never expected and still surprises me to this day. But I know I never have to fulfill this important duty alone. I have the Great Architect of the Universe to guide me, and an amazing corps of officers serving with me, and the best grand lodge staff in the world, and the full support of my wife, Liz, and the family. With all that support, I know I'll be able to serve successfully.
What is your theme for the year?
My theme is "crafting leadership." Leadership is what will keep our fraternity on the right path. We need to demonstrate leadership within ourselves and our lodges in order to create that engaging environment for brothers to thrive in. As for leadership in our communities, our lodges need to reach out and become recognized for the leadership they provide. I seek to inspire us to work in our communities in a way that fulfills a need and enables the rest of the world to see exactly what Masons do—especially what we are doing in our towns and in our schools.
What are your priorities for this year and why are they important to you?
I have several priorities. The first involves community engagement. I want to see our lodges reach out and have a dialogue with their community and school board leaders to learn more about who they are and how we can be of service to them. This could include creative uses of our buildings, such as polling places or Red Cross blood drives or supporting our Raising A Reader and Masons4Mitts campaigns.
I also want to inspire lodges to create more exciting events and programs to keep members active. Lodges should be a space for us to nourish our deep friendships and to connect, learn, and grow. Beyond that, the youth orders need our support more now than ever, so I want our lodges to reach out to DeMolay, Job's Daughters, and especially Rainbow in their 100th anniversary year to attend their events. I want our lodges to develop ties with the appendant and concordant bodies, and I want to build ties with our local Prince Hall lodges. I'll be working closely with our executive committee this year to identify new and exciting ways for us to come together to get to know each other better.
Lastly, Liz and I fully support the Masonic Center for Youth and Families. Having a center that provides mental health services for the community, for our Masonic youth, and for our Masonic Homes residents is amazing. Our family has strongly supported the need for all youth to get the services that they require so that they can lead happy and productive lives.
Do you have a favorite memory associated with your lodge?
So many. I can distinctly remember portions of my degrees back in 1992 in Kansas. Raising my company commander as master of my lodge was very special, as was my relationship with Worshipful Don Fischer, who coached me through all of my ritual.
Is there anything else you'd like members to know about you?
I'm truly honored to be able to serve our beloved craft. I could never have imagined this could happen and now it is a reality. One of my best friends from college once said of me that I was not the smartest guy he knew, but I was surely the hardest working. I see the same here as I dedicate my life to serving our craft. I won't be the best at everything, but I will definitely be the hardest working.